Theater Camp 2021 - Tech & Teen Scene Options
Tech Option for 6th, 7th, 8th & 9th Graders
(Available Sessions I & II only)
Instead of rehearsing and performing in the weekly shows, we also offer campers the option to participate in "Tech". From 9 am to 12 noon, Tech campers paint scenery, organize props, and assist with selection and design of costumes. During performances, Tech campers function as the stage crew, making sure that sets, scenery, props and costumes are in place. This is an option that requires maturity and the ability to follow direction – perfect for learning what a crew does to make each theatrical performance a success.
Teen Scenes – Option for 8th, 9th & 10th Graders
(Available Sessions I & II only)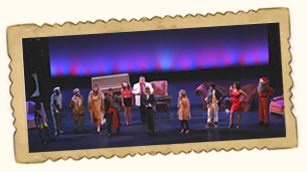 Teenagers at THEATER CAMP have the option to perform in the weekly musicals productions or join "Teen Scenes".  In Teen Scenes, they will rehearse with their peers for 3 weeks, learn more advanced theater and acting techniques and work with scripts. At the end of Session I and Session II, a "Teen Scene" show is performed for parents, community members and all Theater Campers. Teenagers who choose not to perform work as Production Crew – building & painting scenery, operating spotlights & sound boards, and Stage Managing the Teen Scenes production.
Also during each of the regular Friday performances, those in Teens Scenes will act as ushers and theater managers, giving them the opportunity to develop new skills. We expect all teens that are privileged to participate in this special program to adhere to the program rules and be ready to work each and every day.