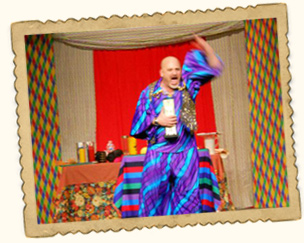 Grab your magic hats, wave those wands and POOF – you can appear in THE HILARIOUS FUNZAPOPPIN MAGIC SHOW for kids! This hour-long comedy magic show is totally interactive, using our special powers to get the entire audience involved! Kids will be hopping on stage to help Professor Krazy find his long lost rabbit.
With a dazzling array of hysterical tricks, our magic show is chock full of colorful and funny routines to capture kids' attention and keep them engaged – and that in of itself is pure magic! Professor Krazy and his hilarious assistant use slapstick antics with a goofy sense of humor to perform sorcery like no one else can. While you are laughing, you will also be saying, "How'd he do that?" See how Professor Krazy turns a circle into a square, how he makes water disappear, how his buffoonery even baffles himself!
For his final act, Professor Krazy finds his long-lost rabbit, pulled out of thin air to the amazement of the audience. Our Funzapoppin Magic Show for kids can be performed in small and large theaters as well as at children's parties, corporate or school events or anywhere a family-filled audience is ready to be a part of the magic! Contact us today about scheduling and pricing.